One of the critical steps for students at Latham is making the transition from adolescence to the adult world. "What will it be like when they leave our residential care?" "What kind of life might be possible, and what opportunities would make a difference?" Many of our students and family members have come to us with these kinds of questions. In response, in 2002 we created SAIL (Supported Adult Independent Living).

SAIL provides young adults with hands-on staff guidance, as they learn to make important decisions in their lives while continuing to work toward greater independence. Latham maintains SAIL homes in local residential neighborhoods, close to health-care facilities. SAIL residents might live with several housemates, in an apartment with another housemate, or in their own apartment. Some of the young adults in SAIL initially require 24-hour support, 7 days a week, while others need less. Levels of support are based on each person's individual needs and goals.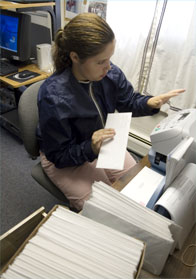 All receive well-rounded exposure to a range of life experiences; for instance, caring for themselves and their homes, finding employment and doing well in a job, doing their own banking, grocery shopping and cooking, having fun in the community and meeting people with whom they can safely form healthy, long-term relationships.